Post by Bodaggit23 on Feb 26, 2010 2:55:02 GMT -5
I'm a CNC Programmer for a company that builds packaging equipment for the pharmaceutical industry, mainly, and I have access to some pretty state of the art software and machinery.We create all our parts on Mazak CNC's. We currently have 6 mills and one lathe.
All our packaging machines are created as 3D models in Pro/Engineer, and not only do I create programs for the CNC mills, I've dabbled in modeling plenty over the last 7 years that I've worked there. I'm no engineer, but I can measure stuff and create it in 3D, and subsequently create the code required to make the parts on the mills. Sweet.

So, I decided some time ago to create an aluminum body guitar based on my white HM.
I started modeling this a couple years ago, in hopes of stealing the neck off my white HM, but I've had a change of heart, and a newfound love for my HM's, so this won't be happening.
Anyway, I've decided to follow through with this idea, but I don't think it'll be an HM because as you know, "extra" necks are hard to come by.
So, I'm scouring ebay and Craigslist for a Jackson PS-2 or PS-3/T neck, and maybe a trashed Jackson body I can measure to make this guitar a reality.
I'll gladly take suggestions on an alternate neck or body, especially based on availability. I just like the PS necks. ;D
Anyway, I basically started from scratch tonight, modeling the guitar, and since I have no other body to base the model on, I used the HM again, just for practice. Some of the contours are a bit tricky to create, but I got them, however it may be hard to see in the pic.
The guitar is modeled as one piece right now, but will be split in half, and each half will be hollowed out for weight reduction.
The top half will have blind threaded holes from the backside so you'll just see a solid top. I'll use dowel pins to align the halves.
We make gear casings this way, and I've never seen an aluminum guitar made like this so I'll give it a go.
Ok, enough story, and this make take a while to finish, but I'm gonna do it!
I always struggled, whether to take the easy way out and use a fixed bridge, or go all out and give her a trem. Still undecided, but I have lots to do before I need to decide.
Here's some pics of the model, whole and the two halves, not pocketed out yet.
The first picture of the model has a scale .jpeg decal of my white HM applied. Only the outer contours and neck pocket is done so far.
Model with .jped added as a decal. I just "traced" around the picture to get the body shape. The picture also shows the shadows of the cutouts. Very helpful.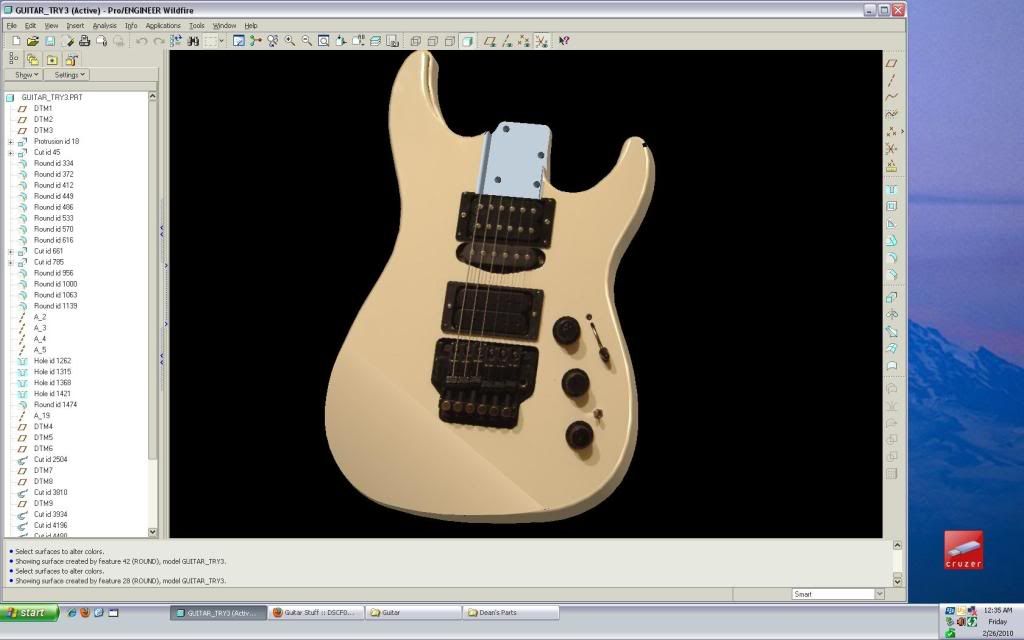 Top of the model
Back of the model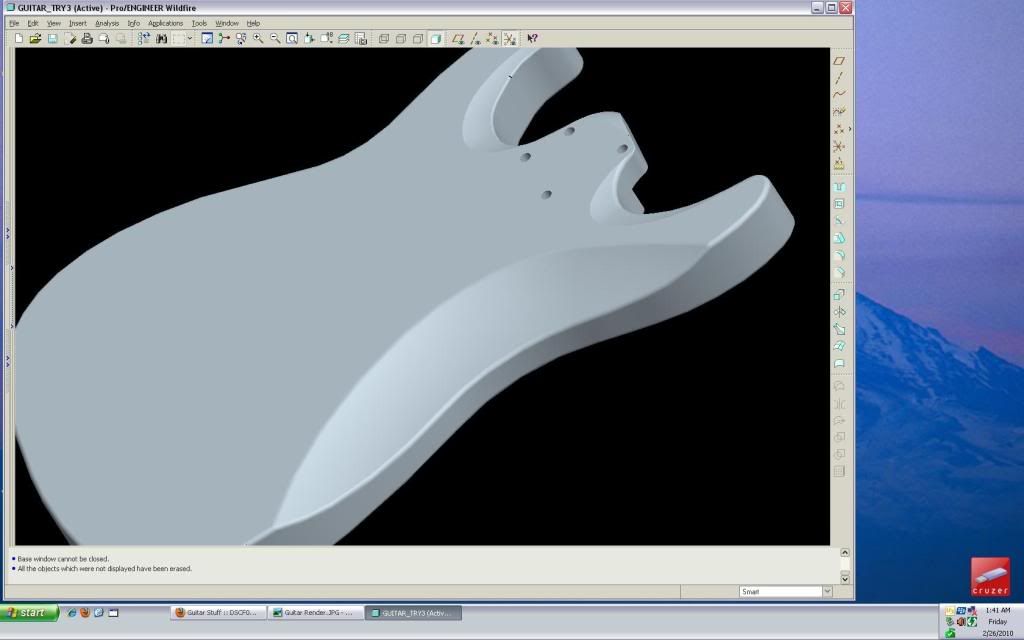 Two halves